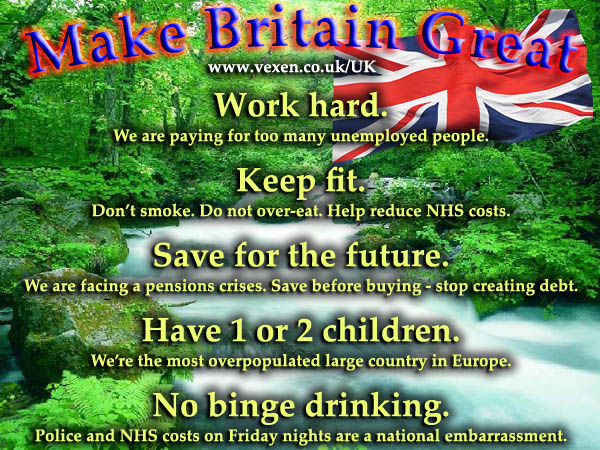 1. Lonely Planet Introduction9
"Tower Bridge, Buckingham Palace... England does icons like no other place on earth, and travel here is a fascinating mix of famous names and hidden gems. ... In the cities, the streets buzz day and night, filled with tempting shops and restaurants, and some of the finest museums in the world. After dark, cutting-edge clubs, top-class theatre and formidable live music provide nights to remember. Next day, you´re deep in the English countryside admiring quaint villages or enjoying a classic seaside resort. There really is something for everyone, whether you´re eight or 80, going solo or travelling with your friends, your kids or your grandma. Travel here is a breeze, and although the locals may grumble (in fact, it´s a national pastime) public transport is very good, and a train ride through the English landscape can be a highlight in itself. Whichever way you get around, in this compact country you´re never far from the next town, pub, restaurant, national park or the next impressive castle on your hit list of highlights."

"The World" by Lonely Planet (2014)10

"From the breathtaking geological wonders of the north coast to the gritty murals of Belfast, Northern Ireland is full of a dramatic beauty that beckons to the traveller. [...] The regional capital, Belfast, has shrugged off its bomb-scarred past and reinvented itself as one of the most exciting and dynamic cities in Britain... You can explore the tensions as they´re expressed today on a tour of the iconic neighbourhoods of West Belfast or in the province´s second city, Derry (or Londonderry), which is leading the north´s cultural revival. And it wouldn´t be Ireland if it didn´t have its fair share of stunning landscapes: from the Antrim Coast and its world-famous Giant´s Causeway to the mountains of Mourne in south County Down."

"The World" by Lonely Planet (2014)11

"Like a fine single malt, Scotland is a connoisseur´s delight - a blend of stunning scenery and sophisticated cities, salt-tanged sea air and dark peaty waters, outdoor adventure and deep history. Scotland harbours some of the largest areas of wilderness left in Western Europe, a wildlife haven where you can see golden eagles soar above the lochs and mountains of the northern Highlands, spot otters tumbling in the kelp along the shores of the Outer Hebrides, and watch minke whales breach through shoals of mackerel off the coast of Mull. It´s also a land with a rich, multilayered history, a place where every corner of the landscape is steeped in the past - a deserted croft on an island shore, a moor that was once a battlefield, a beach where Vikings hauled their boats ashore, or a cave that once sheltered Bonnie Prince Charlie."

"The World" by Lonely Planet (2014)12

"The phrase `good things come in small packages´ may be a cliché, but in the case of Wales it´s undeniably true. Compact but geologically diverse, Wales offers myriad opportunities for escaping into nature. It may not be wild in the classic sense - humans have been shaping this land for millennia - but there are plenty of lonely corners to explore, lurking behind mountains, within river valleys and along surf-battered cliffs. An extensive network of paths makes Wales a hiker´s paradise. Even more untamed are the islands scattered just off the coast, some of which are important wildlife sanctuaries. Castles are... absolutely everywhere. You could visit a different one every day for a year and still not see them all."
2. UK National and Social Development
The United Nations produces an annual Human Development Report which includes the Human Development Index. The factors taken into account include life expectancy, education and schooling and Gross National Income (GNI) amongst many others..
The Social and Moral Development Index concentrates on moral issues and human rights, violence, public health, equality, tolerance, freedom and effectiveness in climate change mitigation and environmentalism, and on some technological issues. A country scores higher for achieving well in those areas, and for sustaining that achievement in the long term. Those countries towards the top of this index can truly said to be setting good examples and leading humankind onwards into a bright, humane, and free future. See: Which are the Best Countries in the World? The Social and Moral Development Index.
3. UK's Demographics
#birth_control #demographics #health #immigration #life_expectancy #longevity #migration #overpopulation #population
Population:
The UK's population is predicted to rise to 69.31 million by 2030. This rise is despite a low fertility rate, meaning, that this country is helping to alleviate problems with growing population in neighbouring countries by accepting immigrants, very likely as a requirement of maintaining an active workforce. This country has a fertility rate of 1.87. The fertility rate is, in simple terms, the average amount of children that each woman has. The higher the figure, the quicker the population is growing, although, to calculate the rate you also need to take into account
morbidity
, i.e., the rate at which people die. If people live healthy and long lives and morbidity is low, then, 2.0 approximates to the
replacement rate
, which would keep the population stable. If all countries had such a fertility rate, population growth would end. The actual replacement rate in most developed countries is around 2.1.
Migration:
#equality #freedom #human_rights #morals #politics #prejudice #tolerance #UK
When it comes to ensuring human rights and freedom, The UK leads the world, setting excellent examples. The UK performs the best in terms of commentary in Human Rights Watch reports24. It comes in the best 20 for supporting personal, civil & economic freedoms25, its success in fighting anti-semitic prejudice26 (one of the best in Europe) and in LGBT equality27. And finally, it does better than average in terms of opposing gender inequality28, supporting press freedom29, speed of uptake of HR treaties30, its nominal commitment to Human Rights31 (but low for Europe) and in freethought32. There are "significant concerns" for the protections of Brits living abroad, and for long-term EU nationals living in the UK33, as popularist rhetoric surrounding a "no deal" Brexit would result in loss of access to pensions and elements of justice and welfare services for up to 10 million Brits throughout the EU34.
For tables, charts and commentary, see:
#health #obesity #UK #UK_health
The UK's National Security Risk Assessment output classes the state of the UK public health as a Tier 1 national risk, the most potent of the three categories37. It's a well-known and high-profile issue; half of all science stories in the UK media are medical38 although many of the claims made are dubious38.The UK does relatively well in encouraging good health, compared to many other countries. The UK comes in the best 20 for its food aid and health contributions and WHO compliance39. It does better than average in its average life expectancy15, its suicide rate40, its adolescent birth rate28 (but bad for Europe), its fertility rate18 (but bad for Europe) and in its immunizations take-up41. The UK does not succeed in everything, however. The UK does worse than average in terms of its smoking rate42 (yet still one of the best in Europe) and in its alcohol consumption rate43. The number of overweight adults has increased by 14% over the past 40 years.
For tables, charts and commentary, see:
#education #english #intelligence #it_security #maths #modernity #politics #religion #research #science #technology #the_internet
Modernity and Education:
Technology and Information:
7. National Culture
#charity #corruption #happiness #morals #politics
8. Peace Versus Instability
#extremism #human_development #peace #politics #religious_violence #terrorism
11.1. Statistics
11.2. Northern Ireland60
#climate_change #environmentalism #religion_in_uk #UK
Northern Ireland is a portion of the island of Eire that has remained under British rule since, when in the 1920s, the rest of the Island was granted independence as Britain dismantled its empire. The Protestants of Northern Ireland refused to part, claiming by majority that they would remain part of the UK despite the mainland's wish to leave. The resulting conflict has had the British government pinned down, with feelings running very deep on all sides and militant actions by freedom fighters, terrorists and even government forces all stirring the "the troubles". Sometimes intense criticism of Britain comes from Irish voices who either want the UK out, sometimes it comes from those who want to stop the UK from leaving. It's a no-win situation. At its worst, it verged on civil war, and at its best, peace is obtained largely because both sides have stopped making progress, and the adherence to common EU markets meant that borders could be ignored.
"The 'troubles' began in 1968 when a civil rights movement created by the Roman Catholic minority flared into violent protest in Londonderry. [...] The IRA's campaign extended even to the mainland, where not only army establishments, but civilian targets too, were attacked with bombs."

"Conflict in Peace 1963-1999" by John Strawson (1994)61
9. The Natural Environment
#biodiversity #climate_change #deforestation #over-exploitation #the_environment
Taking into account the long-term costs of climate change, it is the Green Party in the UK that are pushing for the most sensible policies on combatting climate change. Equally unsurprisingly, closest to them are the centrist Liberal Democrats. Unfortunately, these two parties do not enjoy a great many voters. Although the Labour Party do have some good policies, it's the Conservative party, which has been in power more than any other party in recent decades, that sets the rules. They are held back by leadership that lacks an ethical framework, and, a large number of climate skeptics. Many of its politicians are influenced directly by fossil fuel contributions to the party and some of these congrgate in the backwards "Global Warming Policy Foundation", members including climate idiots such as Nigel Lawson and Steve Baker66.
Even worse than the Conservatives are the UK's true denialists, who can be found in fringe parties such as UKIP67, the racist British National Party (who describe the global evidence for climate change as a 'left wing conspiracy')67 and Reform UK (a rebranding of the Brexit Party). Thankfully these parties have little influence.
10. Economic Inequality and Poverty
#capitalism #economics #health #inequality #life_expectancy #social_development
11. Religion and Beliefs
#afterlife #belief #buddhism #christianity #god #heaven #hell #hinduism #islam #judaism #religion #religion_in_uk #universalism
Religion in the United Kingdom: Diversity, Trends and Decline: Statistical and analytical review of mainstream and minority faiths in the UK
Data from the Pew Forum, a professional polling outfit, states that in 2010 the religious makeup of this country was as follows in the table below71:
By adding up the Pew Forum data for the major monotheistic religions we can see that these make up 76% of the population. Yet there are simply too many who disbelieve in God for this to be true (42%). This is due to the so-called 'Census Effect', whereby many put down a religion for cultural reasons rather than because it reflects their beliefs. In highly Christian countries, as many as half of those who say they're a Christian lack any connection to a Church, and do not hold Christian beliefs (such as believing in God!).
It appears that when asked "What religion are you" many give pollsters the 'correct' answer despite how they actually feel, and despite what they actually believe. Although 78% of the populace say they belong to a religion, only 27% say that they are religious when the question is phrased as "Is religion an important part of your daily life?".
For more on this phenomenon, see:
The Afterlife: Ipsos-NA in 2011 gathered some statistics on UK72. Despite the large numbers of Christians, not many have traditional beliefs in the afterlife - just 10%. More people don't know what to believe (32%). Some believe that upon death, you simply cease to exist (31%). Also, 3% specifically believe in heaven but not in hell (which is nice - making them possible "universalists"). 5% believe in reincarnation.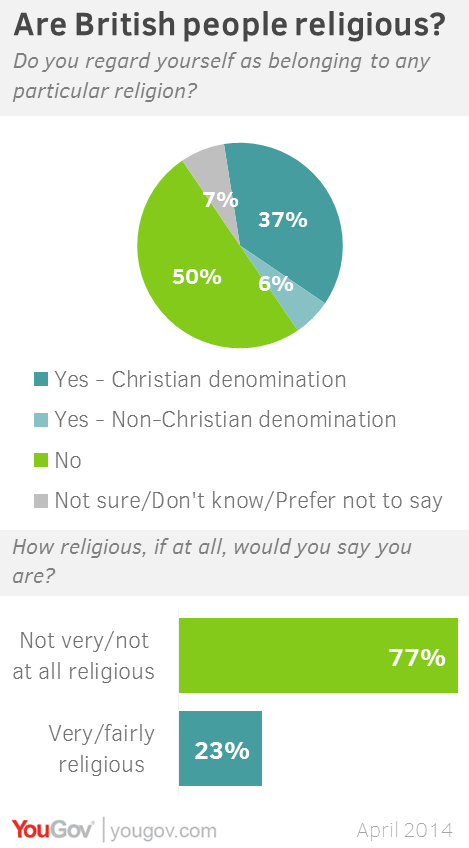 With over 170 distinct religions counted, the religious make-up of the UK is diverse, complex and multicultural. The 2011 Census shows that minority and alternative religions are steadily growing, as is Islam (at 5% of the population). Less than half of the British people believe in a god and from 2009 the annual British Social Attitudes results has revealed that over 50% aren't religious73. A 2014 YouGov poll saw 77% of the British public say they're not very, or not at all, religious74. Comprehensive professional research in 2006 by Tearfund found that 66% of the people of the UK have no connection with any religion or church75.
However, people continue to put down what they think is their "official" religion on official forms. As a result of this Census Effect in the 2011 National Census, 59.3% of us put their religion down as "Christian"76. Half of those who say they have no religion to pollsters still put one down on the 2011 Census. Even despite this, Christian numbers are substantially down from the 2001 figure of 72%. Religion in Britain has suffered an immense general decline since the 1950s. Between 1979 and 2005, half of all Christians stopped going to church on a Sunday. Four in five Britons want religion to be private, not public, and have no place in politics77. All indicators show a continued secularisation of British society in line with other European countries such as France.
Link:
Freedom of Religion and Belief:
Links:
The United Kingdom has seen many cases of paedophile priests, including many cases where Bishops and other senior Christians have protected paedophiles, moving them from post to post when accusations surface.
Father Michael Hill was a known paedophile, who was jailed for a 20-year span of sexual child abuse. "Archbishop Cormac Murphy-O'Connor ignored the advice of doctors and therapists that Father Michael Hill would carry on assaulting children" and reinstated him in 1985. Father Michael Hill then went on to indecently assault more altar boys before being jailed in 1997. His other victims included retards and homeless boys. When he was released, the Church again took him back under its wing, and he lived rent-free in a £100,000 flat a few minutes from a primary school. The Church argued that it wanted him to be in a position where they could supervise him, but I rather think that the Church is last organisation I'd trust to 'supervise' a paedophile, and, that when people give to church they'd rather their money went to good causes. Not many working people can even afford such a flat!
An investigation a year earlier, in 1999, found similar results: "An investigation for Radio 5 Live found one priest under investigation who was still working. Another, recently suspended, was allowed to work in a primary school while under suspicion of abusing children. He had been accused of abuse twice before. Since 1996, six priests have been convicted of child abuse. In each case, the church knew of previous allegations". This was before the horrific explosion of exposés that occurred in 2002, when the world truly learnt that paedophilia and child abuse was rife within the Christian hierarchy.

London's Ealing Abbey and St Benedicts School: "The Charity Commission has issued an unusually strongly-worded criticism of the monks of Ealing Abbey in west London, when one of their number, who was known to have abused children, was allowed to have contact with a teenager at the abbey, who he then sexually assaulted. "Father" David Pearce, a former head teacher at St Benedict's Junior School, was jailed in October after he belatedly admitted 10 indecent assaults and one sexual assault. Complaints of abuse against Pearce had already been heard in a civil court and damages were awarded against him. He was allowed to return to the Abbey, but was arrested in 2008 for sexually assaulting a sixth-form pupil who was employed to wash up for the monks. [...] The report said that the Diocese of Westminster was well aware of the allegations against Pearce and had told the trustees to keep him away from children or young people. The trustees failed to do this, and the consequent assault took place"79.

As of 2011 November, two perpetrators of sex crimes against children have been convicted, and another has jumped bail. In 2009 Oct, Father David Pearce "was jailed for eight years over a string of sex attacks on five young boys, four under 14, at St Benedict's over a period of 36 years. Earlier this month police revealed they were hunting a Catholic cleric wanted over allegations of child abuse reported to date back to when he taught at St Benedict's. Father Laurence Soper, who was abbot of Ealing Abbey from 1991 to 2000, failed to return to a police station for questioning. He is believed to have been living in a monastery in Rome and was due to return to London to answer bail in March, but he failed to turn up".80

Buckfast Abbey in Devon was under investigation for clerical child abuse, and the Catholic Church had appointed Christopher Jarvis to lead their inquiry. "The scale of abuse now being uncovered at Buckfast Abbey is disturbing. Paul Crouch 'Father Benedict' had already been jailed for ten years in 2007 for a string of offences with boys stretching over 20 years. One victim had been 'so terrified that he hid in his locker' and had 'complained to the school Matron in 1987', After an internal investigation, Crouch was allowed to carry on teaching and the police were not alerted. Father William Manahan, called 'Daddy Prior', was jailed, also in 2007, for 15 months for abuse between 1971 and 1978". Unfortunately, the safeguarding officer Chris Jarvis has now himself been jailed "for having 4,000 child abuse images on his work laptop computer, including ten involving sadistic violence, the most serious category"81 and including making and distributing child porn80.

That's not quite the end due to another case unrelated to Buckfast Abbey. A now-deceased monk Father Edward Stewart 'is alleged to have repeatedly abused a young boy over three years. Even worse is that it has become clear that Stewart was moved around parishes in Britain and Scandinavia despite (and of course because of) 'frequent complaints about his behaviour'.'

Buckfast Abbey brought in a replacement safeguarding co-ordinator, Father James Courtney, who has happened to previously 'discovered a trunk of photographs of adolescent boys engaged in sexual activities belonging to Stewart but neither he nor the Abbot reported them to the police, and the incriminating material was destroyed.' Such inactivity in the face of such serious immoral and criminal behaviour is hardly a good sign for a safety officer whose job it is to look after children's welfare against sexual abuse, especially as that person is replacing the previous safeguarding officer because he's been convicted for the type of offense he was supposed to be stopping!81

Keith Porteous Wood of the National Secular Society again highlighted his common-sense argument that no-one in the Church should be a child protection officer, and that all current plans to try to curb child abuse by Church officials lack independence.
For more, see:
#belgium #brexit #EU #france #netherlands #politics #UK
The UK's population faced a referendum in June 2016 on membership of the EU. The results were very close, with Leave winning by just a 2% margin (37% Voted Leave, 35% Voted Remain), but many news (and government) outlets scale up the difference by ignoring the "don't knows", and citing "Leave" as "the will of the people"84.
Also in June 2016, the EU appointed Michel Barnier to lead a team of legal experts. A full year later, he complained that the UK had still not appointed a representative to talk to him85. The UK arrived late and unprepared for negotiations, and engaged in a series of embarrassing and harmful name-calling tactics, publicly insulting the very people they were trying to negotiate with86. A month into talks, and Mr Barnier is still trying to ascertain what the UK's stance is on most issues87. The UK government has been surprised by simple facts: It argued that Euratom's treaty only covers uranium even whilst its own scientific advisors cried out that hospitals need Euratom to source medical isotopes from Belgium, the Netherlands and France as the UK doesn't have the specialist nuclear reactors to make its own88. And as July 2017 drew to a close, the UK government finally thought to commission a year-long investigation on the economic and employment ramifications of losing EU workers. Most other responsible governments would have engaged in a fact-finding mission before making the most important decision made for 40 years. Even in 2019, when a last minute "here are the effects you need to prepare for" document was released, the title of the document was "[Insert title of report]".
Most of the prominent "Brexiteers" have themselves exited the scene89, leaving a void filled with politicians who are pursuing a policy they don't think is good for their own country.
But before the people rise up against all this disorganisation, it is worth noting that it is not just Conservative politicians who are uninformed about the EU; in 2016 researchers found that the UK's citizens were the least knowledgeable about the EU90. After the vote, humorously, data released by Google shows that ... well, the Washington Post summarized it the best: "The British are frantically Googling what the E.U. is, hours after voting to leave it". The UK has suffered from many high-profile long-term campaigns ran by sensationalist newspapers that have managed to misinform the masses on almost every aspect of EU involvement with the UK91,92.
For more, see: