Human rights, equality and the rule of law define Europe, and European countries thusly make up most of the top countries on the Social and Moral Index. In "Universal Human Rights in Theory and Practice" by Jack Donnelly2 Europe is described as the leading practical example of the implementation of human rights, where they really are seen as intrinsic rights and not merely liberties3. The European Court of Human Rights is heavily over-subscribed and influential: it answers to the call of the citizens themselves, and only very rarely do governments ignore its rulings4.
There are 58 locations that fall within this category. By adding up all the known populations that fall within these locations, and summing their physical land areas, we can calculate population densities. Some islands and territories can end up being counted twice depending on how they are classified and divided up politically, but, mostly such errors involve only small populations. So, some data on this collection of countries in total:
Population: 700.8m
Land Area: 6 665 788km2
Independent States: 48
Other Territories: 10
1. Summary Data
#economics #human_development #population #wealth
Not showing due to lack of data: the Vatican City.
This page only shows places where the database has enough data to be able to come to reasonable conclusions about each place. The main focus is on nation states, but, some distinct external territories may be listed if the database has enough information about them. Averages are calculated from as many valid data points as possible, meaning, that some territories and locations that are not listed above may still be used to calculate some of the average values. Some calculations only use Independent State data - hover the cursor over values to see hints.
Links:
#education #equality #gender_equality #health #human_development #human_rights #modernity #morals #politics #prejudice #technology #the_internet #tolerance
Here are each country's overall scores across the categories that make up the Social and Moral Development Index. This is followed by lists of how each country scores in each individual data set.
The Social and Moral Development Index concentrates on moral issues and human rights, violence, public health, equality, tolerance, freedom and effectiveness in climate change mitigation and environmentalism, and on some technological issues. A country scores higher for achieving well in those areas, and for sustaining that achievement in the long term. Those countries towards the top of this index can truly said to be setting good examples and leading humankind onwards into a bright, humane, and free future. See: Which are the Best Countries in the World? The Social and Moral Development Index.
For more, see:
3. Demographics and Migration
#birth_control #demographics #emigration #europe #health #immigration #life_expectancy #longevity #migration #overpopulation #population
Population:
Migration:
Some tiny countries in Europe are mostly comprised of immigrants. The countries in Europe with the highest percent of immigrants in their populations are Liechtenstein (65.1%), Monaco (54.9%) and Andorra (53.3%), although the average for Europe is 14%. Of the large countries with more than a million in their population, the highest proportion of immigrants can be found in Switzerland (29.6%), Austria (19%) and Sweden (17.6%). When it comes to emigration the highest rates are Monaco (56.3%), Albania (45.4%) and Bosnia & Herzegovina (38.9%), with a continental average of 13% who have crossed a national border to live elsewhere.
For full commentary and data, see:
4. National Culture
#charity #corruption #happiness #morals #politics
Europe sets the best examples in the world on how to fight corruption; no others are as effective at doing so than the Scandinavian countries of Denmark and Finland, with Norway and Sweden not far behind, according to Transparency International's 2022 data15. The places in Europe most susceptible to corruption are Azerbaijan, Ukraine and Bosnia & Herzegovina.
5. Peace Versus Instability
#extremism #human_development #peace #politics #religious_violence #terrorism
Europe was the first continent to move towards the modern era of state-based democratic security as part of a long-term trend of peaceability regulated by state interventions.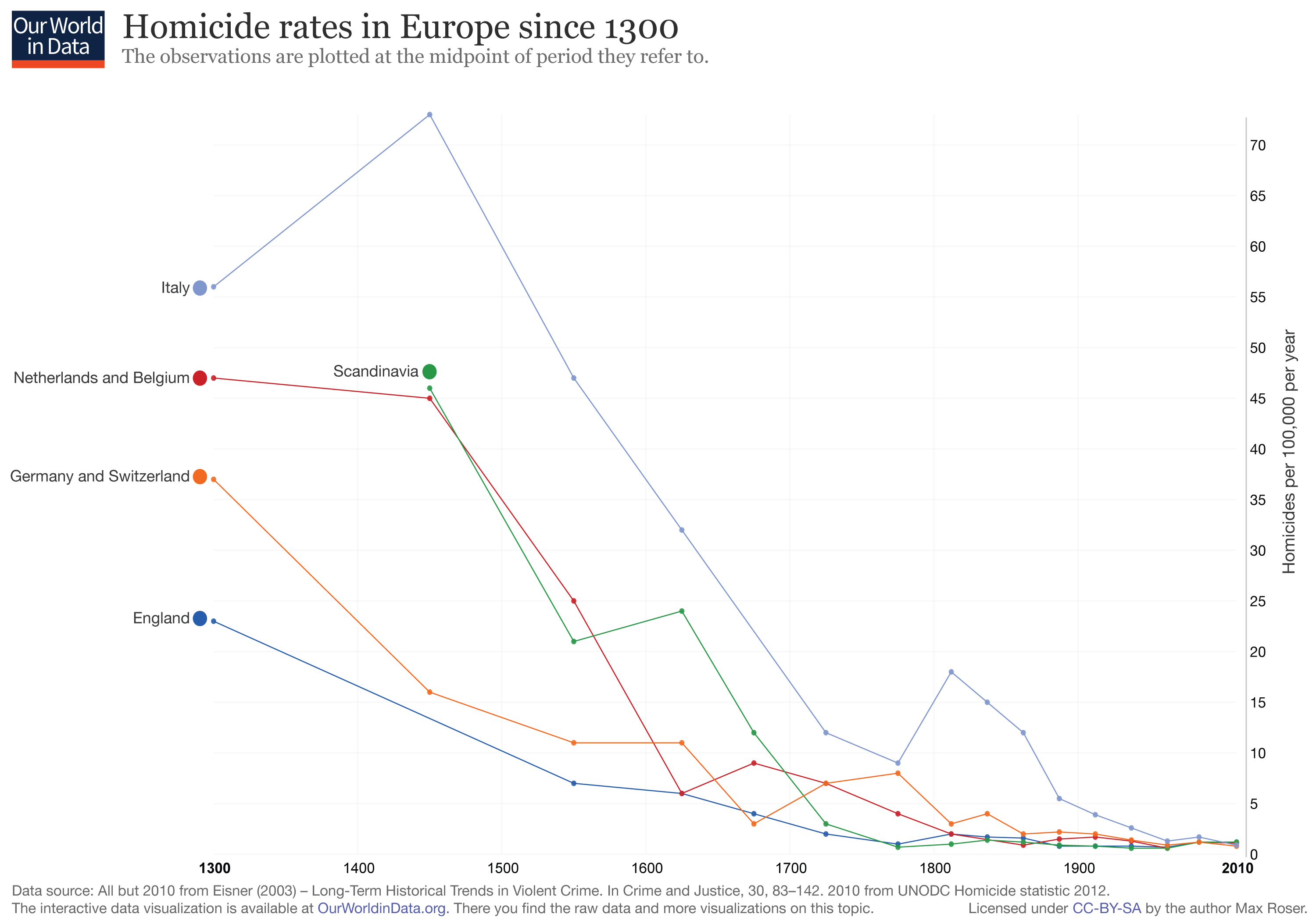 Source: Roser, Max (2016)23
6. The Natural Environment
#biodiversity #climate_change #deforestation #over-exploitation #the_environment
12.1. EU Swimming Water Quality in 2020 (Best: Cyprus and Austria; Worst: UK and Poland)
#pollution #sewage #UK #uk_public_health #water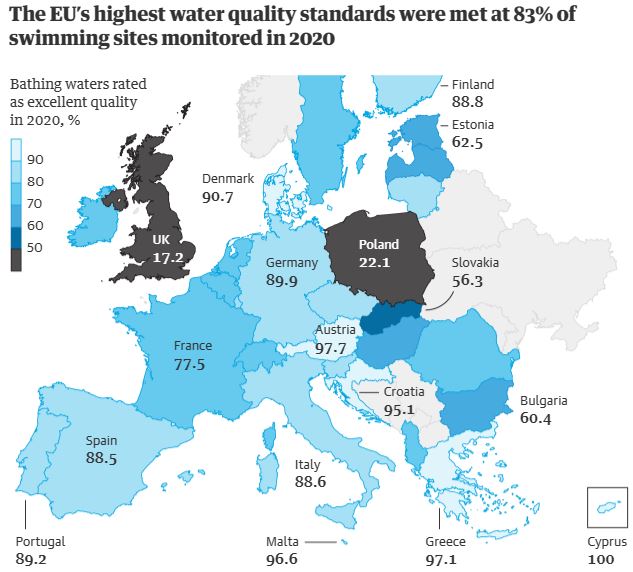 Source:The Guardian (2021)29
Swimming sites are directly linked to overall water system health, especially river health. The EU's river water-quality standards stipulate that water companies must treat sewage rather than dump it in rivers and oceans30 where it impacts on all neighbouring countries. Since its adoption in 1991, over 90% of urban wastewater has come to be treated throughout the EU, and 'the quality of European rivers, lakes and seas has dramatically improved'31. The UK never done well29, however, and the International Water Resources Association's Callum Clench recalls that the UK was regularly fined for not meeting those standards and he worries about further decline now that the UK has left the EU30 and its Conservative Party Government feels freer to do less, and is actively removing even more environmental legislation.
For more, see: UK River and Beach Pollution from Sewage.
7. Economic Inequality and Poverty
#capitalism #economics #health #inequality #life_expectancy #poverty #social_development
#education #english #intelligence #it_security #maths #politics #religion #religiosity #research #science #secularisation #the_internet
Modernity and Education:
Technology and Information:
#alcohol #birth_control #demographics #health #life_expectancy #longevity #mental_health #obesity #overpopulation #parenting #population #smoking #suicide #vaccines
The countries with the best overall approach to public health, in terms of both public policy and individual lifestyle choices, are Monaco, Hong Kong and The Maldives53. These countries are worth emulating. And, although often through no fault of the average citizen, the worst countries are The Marshall Islands, S. Sudan and Palau53.
The data sets used to calculate points for each country are its average life expectancy, its alcohol consumption rate, its fertility rate, its smoking rate, its suicide rate, its food aid and health contributions and WHO compliance, the prevalence of overweight adults, its adolescent birth rate and its immunizations take-up. The regions with the best average results per country are Scandinavia, Asia and The Mediterranean53, whereas the worst are Micronesia, Australasia and Africa53.
For more, see:
Health:
Children's Health:
#christianity #equality #Europe #gender_equality #human_rights #LGBT_rights #morals #poland #politics #prejudice #tolerance #turkey
The best countries in Europe at protecting human rights, engendering tolerance and supporting equality, are Sweden, Norway and Denmark. The worst countries are San Marino, Monaco and Vatican City. Europe has an excellent record on women's rights and gender equality. Prejudice against any protected characteristics found in HR law is actively challenged in most of Europe, especially in countries that have signed up for the European Council of Human Rights (part of the Council of Europe), which frequently sees cases brought by citizens against member states. LGBT rights, freedom of religion and freedom of thought are all routine. The most powerful and effective agents working against human rights in Europe are Christian institutions, especially the Catholic church and conservative movements, plus, the occasional push by backwards political parties or individual leaders. Some of these factors create long-term problems, such as in Poland or Turkey. But, there is nowhere else in the world have the spurious prejudices of human culture have been so diminished as in Europe.
For full commentary and data, see:
11. Religion and Beliefs
#belief #buddhism #christianity #folk_religion #god #hinduism #human_development #islam #judaism #no_religion #religion #religiosity #secularisation
Over the last 60 years, religion in Europe has seen a strong decline. On average throughout the 27 EU countries, only half of its people believe in God61 and 25.4% directly say that they have no religion62. There is much variation from country to country. Only 16% of the populace of Estonia believe in God and the Scandinavian countries are highly atheist. But 95% believe in Malta. Two main social groups are particularly prone to belief in God; those over 55 years old and those whose education did not proceed beyond the 15-year-old stage.61. For a discussion on secularisation in general, see: "Secularisation Theory: Will Modern Society Reject Religion? What is Secularism?" by Vexen Crabtree
Despite the low rate of belief in God, many Europeans still claim to belong to theistic religions. 49.5% of the population of Europe say they are Catholic Christian, 15.7% say they're Muslim, 12.7% say they're Protestant Christian, 8.6% say they're Orthodox Christian and 0.4% say they are Jewish62. These numbers mean that at least 30% of Europeans are putting down a religion despite not believing in the very basic first principal of the religion they put down. In some places, this percent is higher. In France only 52% of Catholic believe in God and "only 18 percent define God according to the teachings of the Catholic Church"63. This is all because most people in Europe confuse religion and cultural heritage, and for many the actual beliefs of a religion don't really matter. For a discussion of this, see: "Institutionalized Religions Have Their Numbers Inflated by National Polls" by Vexen Crabtree.
Links:
12. The European Union (EU)67