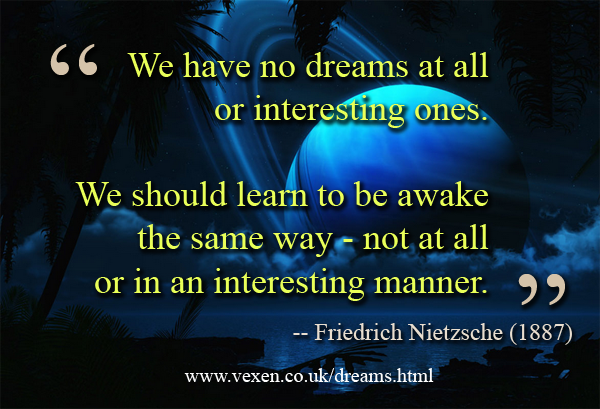 "We have no dreams at all or interesting ones. We should learn to be awake the same way - not at all or in an interesting manner."
"On the Genealogy of Morals and Ecce Homo"
Friedrich Nietzsche (1887)1
Menus:
Nightmares and Night Terrors (2005)

The Biology of Dreaming (2005)
Vexen's Dream Diary (2000-2003)
"Keeping a dream diary [will] help you remember your dreams. As you record more dreams, you should start remembering more dreams. As you remember more you will probably find your recollections become gradually clearer and more detailed."

"Teach Yourself Dream Interpretation" by Leila Bright (1999)2
Red Dreams (Facing Danger Alone)
"Dreams. - On the rare occasions when our dreams succeed and achieve perfection - most dreams are bungled - they are symbolic chains of scenes and images in place of a narrative poetic language; they circumscribe our experiences or expectations or situations with such poetic boldness and decisiveness that in the morning we are always amazed at ourselves when we remember our dreams."

"On the Genealogy of Morals and Ecce Homo" by Friedrich Nietzsche (1880)3
Zombie Dreams
Blue Dreams (Not Scary)
White Dreams
By Vexen Crabtree 2014 Jul 12
Originally published 1999 Feb 18
http://www.humantruth.info/dreams.html
Links
Bright, Leila
(1999) Teach Yourself Dream Interpretation. Quotes from 2003 softback edition. The image used for this book is for a later version by the same author.
Hobbes, Thomas
(1651) Leviathan. Digital edition produced by: Edward White, British Columbia, Canada. Prepared from the Pelican Classics edition.
Nietzsche, Friedrich. (1844-1900)
(1887) On the Genealogy of Morals and Ecce Homo. Translation by Walter Kaufmann published in 1969 October by Random House, Inc. The Amazon link does not link to the same version that I have quoted from.
Footnotes
Nietzsche (1887) cites this in the "Seventy-Five aphorisms" at the end of the Appendix of On the Genealogy of Morals as being from "The Gay Science (1882)" paragraph 232.^
Bright (1999) p19.^
Nietzsche (1880) cites this in the "Seventy-Five aphorisms" at the end of the Appendix of On the Genealogy of Morals as being from "The Wanderer and His Shadows (1880)" paragraph 194. Translation from German by Walter Kaufmann.^